For its 54th edition, from June 19th to 25th, 2023, the Salon International de l'Aéronautique et de l'Espace once again confirmed its status as the world's biggest event dedicated to the industry. As a first-time participant, SPIRAGAINE was able to experience the event from the inside. Let's take a look back at a week dedicated to the aerospace industry.
380,000 visitors, 2,500 exhibitors, 125,000 m² of exhibition space and 150 aircraft from all over the world. These pharaonic figures testify to the success of the 2023 edition after a 4-year absence. This year, SPIRAGAINE took its place amidst the immensity of the halls to present its company, its products, its know-how and its expertise.
As a French manufacturer of technical flexible hosing, SPIRAGAINE is active in the aeronautical sector, providing solutions for air routing, aircraft air conditioning and hydrocarbon system ventilation. The applications are numerous, as are the problems associated with the aeronautical environment.

These technical challenges are met by the company's design office and its determination to develop ever more innovative products. The experience acquired over the last twenty years with the sector's major actors has made SPIRAGAINE a recognized manufacturer in the aeronautics industry. So it was a logical decision for SPIRAGAINE to take part in the show in the NAE (Normandie Aero Espace) pavilion, a cluster of Norman companies involved in the aeronautics industry.
For a whole week, SPIRAGAINE was able to present its world to both the general public and industry professionals with the same passion for aeronautics. It was also an opportunity to meet customers and suppliers who can't always make themselves available during the rest of the year. The international dimension of the show also enabled us to raise our profile with foreign contacts interested in our technologies. Politicians and press organizations then took the time to question us, and press articles have since appeared showcasing SPIRAGAINE.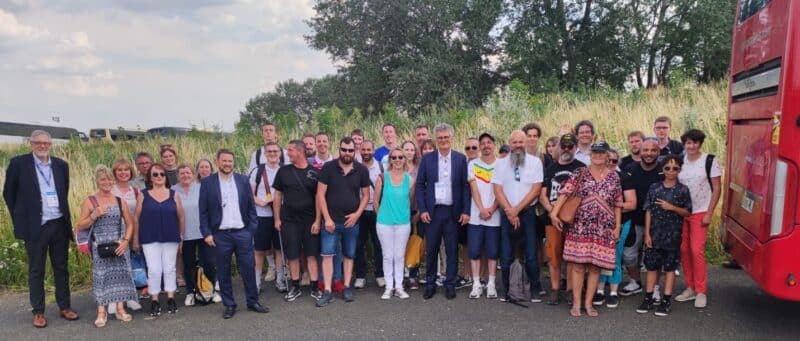 The specific features of SPIRAGAINE products are in line with the new challenges facing the aerospace industry: decarbonization and energy savings. SPIRAGAINE's flexible hosing products, ever lighter and more resistant, respond to these new issues, which were at the heart of discussions during this edition of the show.
Last but not least, all employees were invited to the event: a bus was provided to ensure that everyone could make the most of the day. The program included a visit to the SPIRAGAINE stand and our customers, followed by enjoying the sunshine during the aerial demonstrations of various aircraft, each as spectacular as the next. It was important for SPIRAGAINE that its employees discover the environment in which their products evolve.
This first participation in the Salon International de l'Aéronautique et de l'Espace will remain a landmark event in the history of SPIRAGAINE, and this success reinforces the company's dynamic development with unfailing determination and enthusiasm. Participation in the next show is not out of the question!